The Katherine Detre Scholarship has been established to supplement financial support provided through a Graduate Student Researcher (GSR) position in the Epidemiology Data Center. Recipients of this scholarship are promising incoming students who exemplify the strengths and spirit of Katherine Detre.

Katherine Detre, MD, DrPH, founded the Epidemiology Data Center (EDC) in the Graduate School of Public Health at the University of Pittsburgh and directed the center for over 25 years. Among other projects, Dr. Detre led the PTCA Registry and later the Dynamic Registry, the Liver Transplant Database, and the landmark Bypass Angioplasty Revascularization Investigation (BARI) and BARI 2D clinical trials.
First and foremost, Dr. Detre was committed to improving the care of patients through the rigorous analysis of clinical evidence. Her intellectual curiosity and extraordinary determination were an inspiration to her colleagues and students.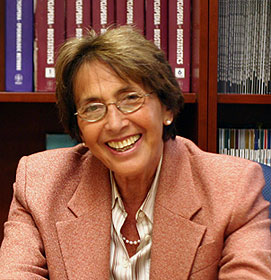 The recipient must be accepted into a graduate program (MPH, MS, DrPH, PhD) in the Epidemiology Department.
The recipient must demonstrate strong quantitative skills. This could be through experience or successful course work in, for example, biostatistics, statistics, math, psychology or engineering.
The recipient will have a position in the EDC mentored by EDC faculty.
The recipient must demonstrate a commitment to advancing Public Health knowledge. The candidate should aspire to understand disease mechanisms and be interested in evaluating disease prevention and/or treatment.
2006-2007     Sheng-Chia Chung, PhD candidate in Epidemiology, BARI 2D GSR
2007-2008     Sheng-Chia Chung, PhD candidate in Epidemiology, BARI 2D GSR
2008-2009     Jennifer Njoroge, PhD candidate in Epidemiology, SAVE GSR
2009-2010     Jennifer Njoroge, PhD candidate in Epidemiology, SAVE GSR
2010-2011     Andrew Althouse, PhD candidate in Epidemiology, BARI 2D GSR
2011-2012     Andrew Althouse, PhD candidate in Epidemiology, BARI 2D GSR
2012-2013     Marc Tian, PhD candidate in Epidemiology, SNAP GSR
2013-2014     Marc Tian, PhD candidate in Epidemiology, SNAP GSR
2014-2015     Sylvia Lin, PhD candidate in Epidemiology, HBRN GSR
2015-2016     Sylvia Lin, PhD candidate in Epidemiology, HBRN GSR
2016-2017     Kathleen Creppage, DrPH candidate in Epidemiology, TED GSR
2017-2018     Kathleen Creppage, DrPH candidate in Epidemiology, TED GSR
2018-2019     Alexis Nasr, PhD candidate in Epidemiology, SWAN-HDL GSR
2019-2020     Alexis Nasr, PhD candidate in Epidemiology, SWAN-HDL GSR
2020-2021     Yuqing Chen, PhD candidate in Epidemiology, SWAN GSR
2021-2022     Yuqing Chen, PhD candidate in Epidemiology, SWAN GSR
2022-2023     Gerard Portela, PhD candidate in Epidemiology, MINT GSR
Sheng-Chia Chung, PhD
Research Associate
Clinical Epidemiology
Institute of Health Informatics
Faculty of Pop Health Sciences
University College London
Jennifer Njoroge, PhD
Research Assistant Professor, Pediatrics, College of Medicine
Nationwide Children's Hospital, Columbus Ohio
Andrew Althouse, PhD
Assistant Professor of Medicine
Division of Cardiology
Supervisor of Statistical Projects
Heart and Vascular Institute
University of Pittsburgh
Marc Tian, PhD
HEOR RWD Scientist/Consultant
TechData Service Company, LLC, NYC
Sylvia Lin, PhD Data Scientist
Epidemiology Data Center
University of Pittsburgh

412-624-5447

Email Us
Epidemiology Data Center
University of Pittsburgh
4420 Bayard Street, Suite 600
Pittsburgh, PA 15260
Collaboration with other institutions has always been essential to our work. Please contact us for more information on how working with the EDC can benefit your organization. research@edc.pitt.edu